Europe migration: EU plans mandatory pact to 'rebuild trust'
The European Union has called for a compulsory system across the bloc to manage migration, after years of division over how to respond to a big influx of migrants and refugees.
The German-backed pact would require all 27 EU countries to take part.
Member states would either agree to take in asylum seekers or take charge of sending back those refused asylum.
European Commission head Ursula von der Leyen called it a "European solution… to restore citizens' confidence".
The recent fires that destroyed the Moria camp in Greece, housing more than 12,500 migrants and refugees, was "a stark reminder we need to find sustainable solutions", she added.
But the plans have been criticised, both by human rights groups and governments opposed to taking in migrants.
Ever since the influx of over a million migrants and refugees in 2015, mainly via Italy and Greece, the EU's 27 states have been divided over how to respond, and the new pact has already attracted criticism.
Italy and Greece have accused wealthier northern countries of failing to do enough, but a number of Central and Eastern European nations have been openly resistant to the idea of taking in a quota of migrants.
What's in the plan?
The new pact, which has been pushed most strongly by German Chancellor Angela Merkel, proposes a "fair sharing of responsibility and solidarity between member states while providing certainty for individual applicants". There would be:
New compulsory pre-entry screening involving health, identity and security checks
A faster asylum border process involving decisions within 12 weeks and swift returns for failed applicants
Taking in recent arrivals
"Sponsoring" returns – ensuring on behalf of other states that people refused asylum are sent back
Providing immediate operational support
Each state would be legally required to contribute their "fair share" – based half on GDP, and half on population size
The European Commission president said the new pact would "rebuild trust between member states" and strike the "right balance between solidarity and responsibility".
EU Home Affairs Commissioner Ylva Johansson said she guessed that not one of the member states would be satisfied with the pact, "but I think we would have 27 member states and parliament that would say it's worth working on this".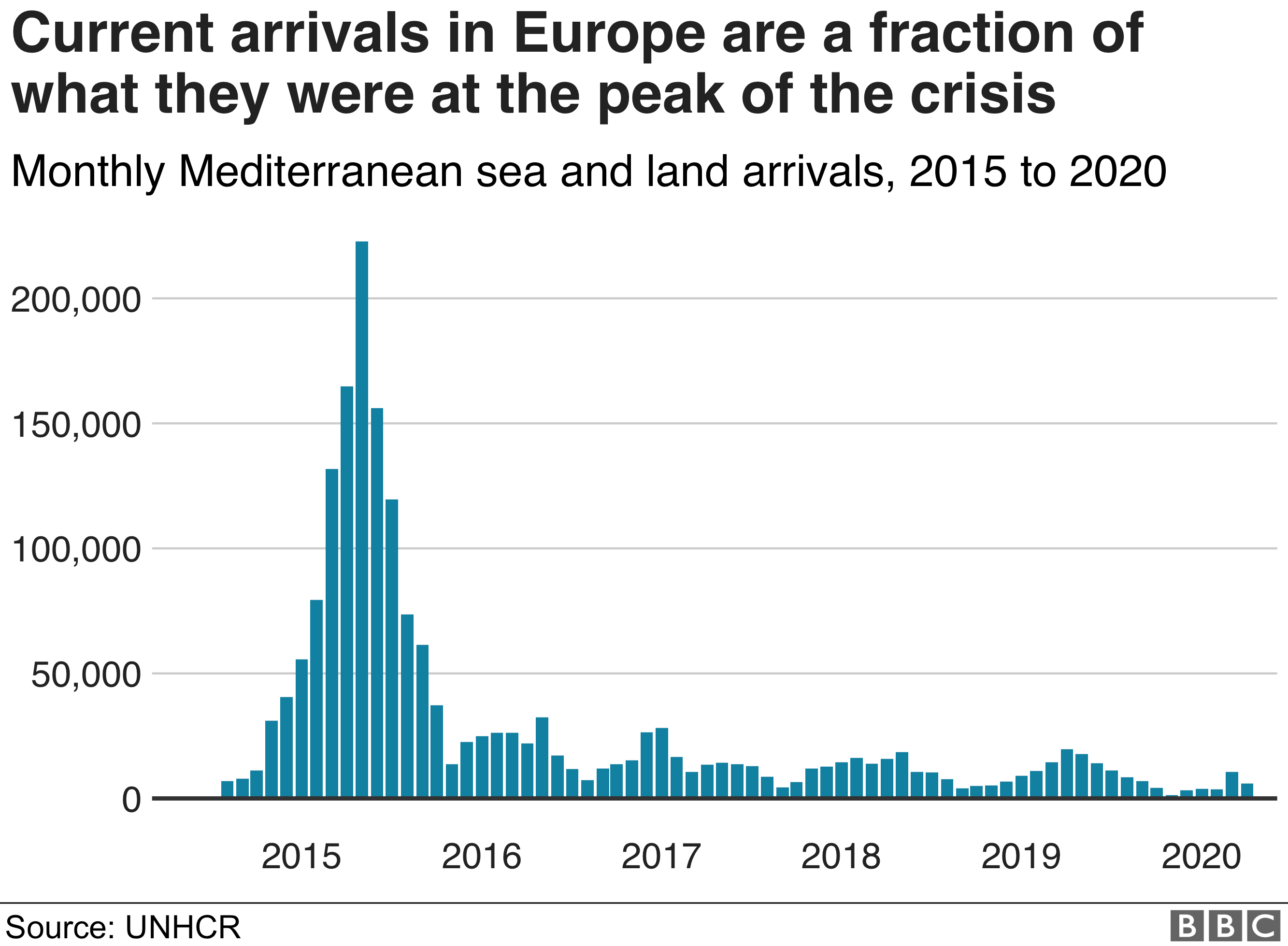 The new pact is also designed to replace the ageing Dublin rule, which requires asylum claims to be handled in the EU country where the applicant first enters the system.
Commission Vice-President Margaritis Schinas said the old regulation was designed for a few people fleeing dictatorships, not today's reality.
No easy fix for a long-running crisis
Analysis by Kevin Connolly, Europe correspondent
Of all the problems that have beset the European Union none is more chronic or more corrosive than migration. The search for solutions began even before the upheaval of 2015 saw a million migrants, refugees and asylum seekers arrive on the bloc's shores.
And the 2016 deal under which Turkey agreed to hold back part of that tide of humanity in return for substantial cash payments is now showing signs of strain. That leaves the EU countries where migrants first land – notably Greece and Italy – bearing the bulk of the burden.
But Poland and Hungary have resolutely resisted plans for mandatory sharing in the past. It's unlikely that money or EU plans for quicker processing of asylum claims will change their views.
So when the EU Home Affairs Commissioner says "no-one will be satisfied" with these new measures, she is highlighting the compromise she has to strike between humanitarian duty and political reality.
Moreover, she is also emphasising the difficulty of fixing this long-running crisis.
Why now?
The new pact, which has been pushed most strongly by German Chancellor Angela Merkel, has been brought forward following the fires at the Moria camp on the island of Lesbos.
The number of people arriving on Europe's shores seeking refuge is down to about 55,000 so far this year and Ms Johansson made clear the situation was now very different. "In 2015 we had 1.8 million irregular arrivals and the majority were refugees," she said. The numbers were far lower now and refugees were in the minority.
The plans however have already led the charity Save the Children to accuse the EU of failing to learn "from its recent mistakes". Amnesty International meanwhile said the pact was "designed to heighten walls and strengthen fences" and would do nothing to alleviate the suffering of people in camps on Greek islands or in Libya.
Speedier returns for migrants whose asylum claims have been rejected are also planned, with greater help for non-EU countries hit by migration.
Even before the planned pact was laid out Austrian Chancellor Sebastian Kurz said it would not work. Hungary's nationalist government said the EU's external borders should "remain perfectly sealed along all sections".